Team Walken 22-23
Bart, Ariel, Illy, Juan Bau, Helena, Rowena y Katerina.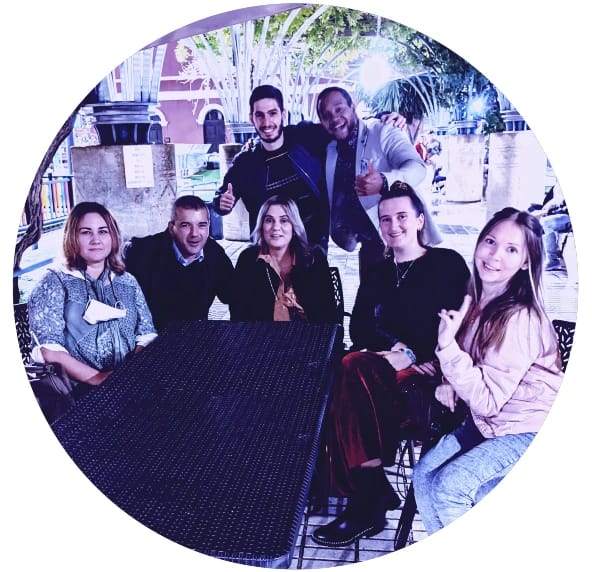 Enseñamos la lengua que conecta el mundo
En Walken School sabemos que el inglés es la lingua franca del siglo XXI y nuestra misión es que tanto niños y adolescentes como adultos con los cursos intensivos de inglés online y los cursos de inglés online, aprendan más eficientemente el inglés que necesitan y lo demuestren conforme al Marco Común Europeo de Referencia de las Lenguas (MCERL) El equipo para llevarla a cabo en el curso 21-22 lo forman:
Ariel
Teacher
Profesor de inglés certificado por Cambridge, este su cuarto año en Walken School. Ariel disfruta enseñando inglés a los más peques y preparando a adolescentes y adultos para certificados oficiales tanto de Cambridge como de Trinity.
Bart
Teacher
Bartolomé o «Bart» es licenciado en Estudios Ingleses, Master en Formación del Profesorado(especialidad inglés) y Master en Lingüística y Teoría Aplicada por la Universidad de Murcia. Actualmente compagina enseñar inglés en Walken School con un doctorado en sociofonética perceptual.
Helena
Founder & Managing director
Con más de 10 años de experiencia en la gestión de academias de inglés, Helena decidió en 2016 que era el momento de crear su propio proyecto y junto a Juan Bau fundaron Walken School. Su principal cometido es coordinar alumnos, padres, profesores y centros examinadores.
Illy
Teacher
Profesora de inglés certificada por Cambridge, este es su cuarto año en Walken School. Habiendo enseñado previamente inglés en la Universidad de Sofía, su verdadera pasión es la preparación de adultos para la obtención de certificados de inglés conforme al MCERL.
Juan Bau
Founder & Operations support
Fundador de Walken School junto a Helena, Juan Bau es licenciado en E-Commerce por London South Bank University y MA in Interactive Media por University of the Arts London. Su principal misión es que alumnos y profesores puedan trabajar con la mayor eficencia y autonomía.
Kat
Teacher
Katerina o «Kat» es profesora certificada de inglés y este es su primer año en Walken School. Peviamente ha trabajado 2 años como auxiliar de conversación en un colegio bilingüe en Madrid. Kat antes era editora de una revista en Canada, pero su pasión por enseñar inglés le llevó a cruzar el charco.
Rowena
Teacher
Rowena es licenciada en Portugés, Español y Catalán por la Universidad de Bristol. Auxiliar de conversación de inglés por la mañana en dos colegios públicos de Lorca, Rowena es profe de inglés por la tarde de niños y adultos en su primer año en Walken School.
---
Walken School –
Un equipo enfocado en Cambridge, Aptis y Trinity
En Walken School trabajamos en equipo para que nuestros alumnos alcancen sus metas. Todos los miembros nos involucramos en todos los cursos y certificados, ya sean de Cambridge Assessment English B1 Preliminary, B2 First o C1 Advanced, el test de nivel Linguaskill, los exámenes de Trinity College London ISE I (B1), ISE II (B2) y ISE III (C1), o el B1 – B2 de Aptis General.